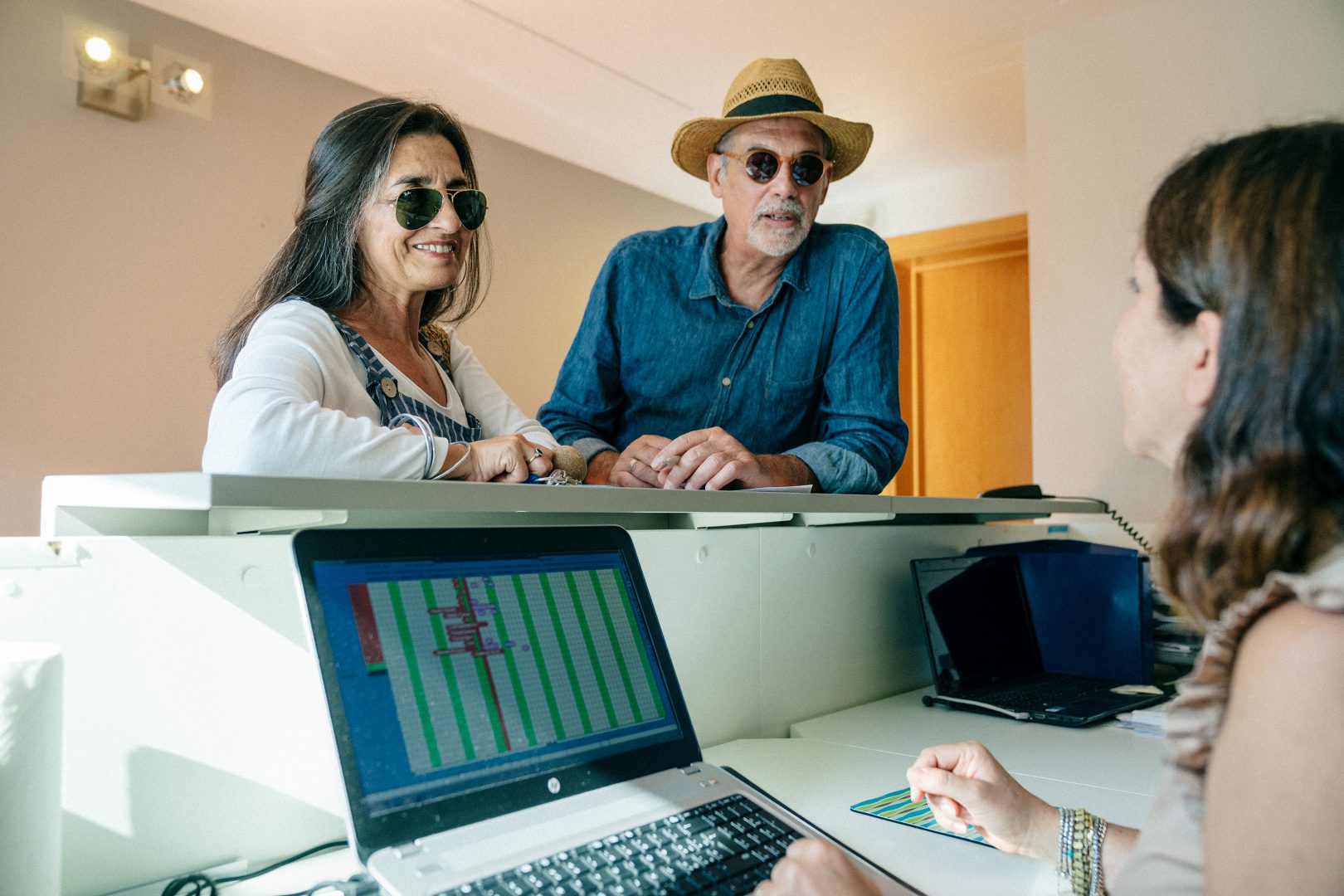 Answers to the most frequent questions
and other important info.
It's all here
We do our best to be one of the leading holiday experience on the Tuscan coast and, according to many guests who have come on vacation here, we are not that far from this goal!
We believe that one of the most importanti aspects is the art of dealing with the questions and clarifiying the doubts of our guests, or of those who are thinking of choosing us for a future holiday at Castiglioncello. Below is a sample of answers to the most frequent questions, but, in all events, if you have other questions, you only have to go to the contacts page.
The address of our Villaggio Mietta at Castiglioncello is:
Via delle Tamerici, 10
Loc. Caletta di Castiglioncello
Rosignano Marittimo (Livorno)
Tuscany – Italy
The Train Station at Castiglioncello is 1,5 km (1 mile) from Villaggio Mietta, so it is quite easy to walk to us. Or you can book a taxi to and from the station, or from Pisa Airport, from Florence or from any other address nearby.
Our reception is at Villaggio Mietta.
Opening hours:
Monday from 9 am to 1 pm – from 3 pm to 7 pm
Tuesday from 3 pm to 7 pm
Wednesday from 3 pm to 7 pm
Thursday from 3 pm to 7 pm
Friday from 9 am to 1 pm – from 3 pm to 7 pm
Saturday from 9 am to 1 pm – from 3 pm to 7 pm
Sunday closed.
What time can I check-in?
Check-in time is from 3 pm on.
Can I book the afternoon check-in?
Of course, you can. 7 (seven) days before arrival, please contact Reception at the following phone number +39 342 3215006, preferibily by whatsapp, and book check-in – available from 3 pm to 7 pm. To avoid waiting, please keep to the time you have booked.
If I arrive after 7 pm and the reception is closed, where can I collect my key?
Absolutely no problem! We'll leave them in the KEY BOX for you to collect it. 7 days before arrival, just contact Reception at the number: +39 342 3215006, preferibily via whatsapp, and book the keybox service. The day prior to arrival, we will send you instructions via whatsapp, for how to collect the keys of your appartament from the keybox.
Please, remember:
check-out before 10 am;
leave all the windows open;
throw all your litter away.
Thank you for your help.
In addition to all services available in the apartments, our price includes:
Wi-Fi.
Apartment-rate consumption for light, water, and gas.
Final cleaning in the apartment.
Use of adult and baby swimming pools.
Access to the barbecue area.
n° 1 parking place.
If desired, the following:
Bedding + towels: € 20/per person (ask early for them).
Daily cleaning of the apartment: info prices at reception.
Cot + high chair: € 5/day.
For other extra services available, consult the "page service", if you need more information, please contact us.
Apart from being in a strategic position concerning the attractions along the Tuscan coast (seaside, theme parks, places of historic, nationalist, cultural, sport, interest, wines, and good food, see here for all the experiences), Villaggio Mietta can rely on a whole series of useful places and services all of which are within walking distance.
The main ones are:
Public parking – 50 mt (55 yards).
Play park for children – 500 mt (550 yards) across the road from the supermarket.
Supermarket – 500 mt (550 yards).
Restaurants, pizzeria, shops – 200 mt (220 yards).
Pharmacy – 700 mt (770 yards).
Doctor – 2,3 km (1.5 miles).
Train station – 1,5 km (1 mile).
We can welcome you in German, English, Spanish, and – naturally – Italian.
Unfortunately, no. According to the other tenants' vote, the apartments at Villaggio Mietta are not suitable for pets.
Yes, City Tax is obligatory for all guests over 14 years of age. To be paid on arrival.
You can cancel up to 7 days before arrival.
There is no fine. We will return the entire booking fee that you have paid us.
If you do not turn up or cancel your booking less than di 7 days before your planned arrival, we will send you a voucher for the sum you have already paid to us.
In order to guarantee the health and safety of our guests and our employees at our resort, we always observe possible rules and advice concerning Covid-19, set up by our Local Authority.
Here is some information that may interest you, on how to proceed:
CHECK-IN
To avoid waiting at check-in we have decided to expedite arrivals remotely. So, a few days before arrival, we will ask you to print and complete the necessary forms and send copies of your identity documents to us.
If you prefer not to wait for our email, here follows the list of requirements:
Identity documents
Take a photograph of both sides (front and back) of your current identity card, and that of every person who will be on holiday with you, including children under the age of 14.
Send us the photos to: reception@villaggiomietta.it or via Whatsapp at +39 342 3215006. Please, specify the name of the client.
Forms to download and fill in
Download, read carefully, fill in and sign, then hand it to us on arrival.
ACCESS
Access to the Resort and every single apartment is permitted only and exclusively to the persons registered at the reception desk, with their identity card, after having completed the COVID-19 Declaration form – where applicable – and have paid the Tourist Tax. Transgressors will be reported to the Authorities.
CLEANING
We guarantee we follow the regulations concerning correct cleaning and disinfecting procedures effective for both the appartamens and the comunal areas.
Every apartment is cleaned and disinfected with care, in accordance to strict rules, before each new check-in. We have also arranged for disinfectant at Reception and before entering the swimming pool.
BEDDING AND TOWELS
Bedsheets and towels are not included. If you wish to reserve them from our Laundry Service, please contact reception.
Prices:
Double bed: € 30/set.
Single bed: € 15/set.
Laundry will be provided, sealed in a transparent plastic sheath.
KITCHEN EQUIPMENT
We are unable to provide the following:
Table cloths.
Kitchen towels.
Oven gloves and kettle holders.
We, therefore, suggest you bring them with you from home.
THE SWIMMING POOL
Use of the swimming pool is regulated according to Mod D "Norme Comportamentali Piscina" (Rules for use of the swimming pool).
The swimming pool is for the exclusive use of clients staying at Villaggio Mietta and must be booked ahead.
Access to the swimming pool is divided into two sessions: one in the morning and one in the afternoon.
You can only book the pool on the day before you wish to use it.
You must provide the names of all the people who wish to use the pool with you.
Each person who uses the pool will be provided with a particular coloured bracelet.
Wearing the swimming cap and bracelet provided on booking is obligatory.