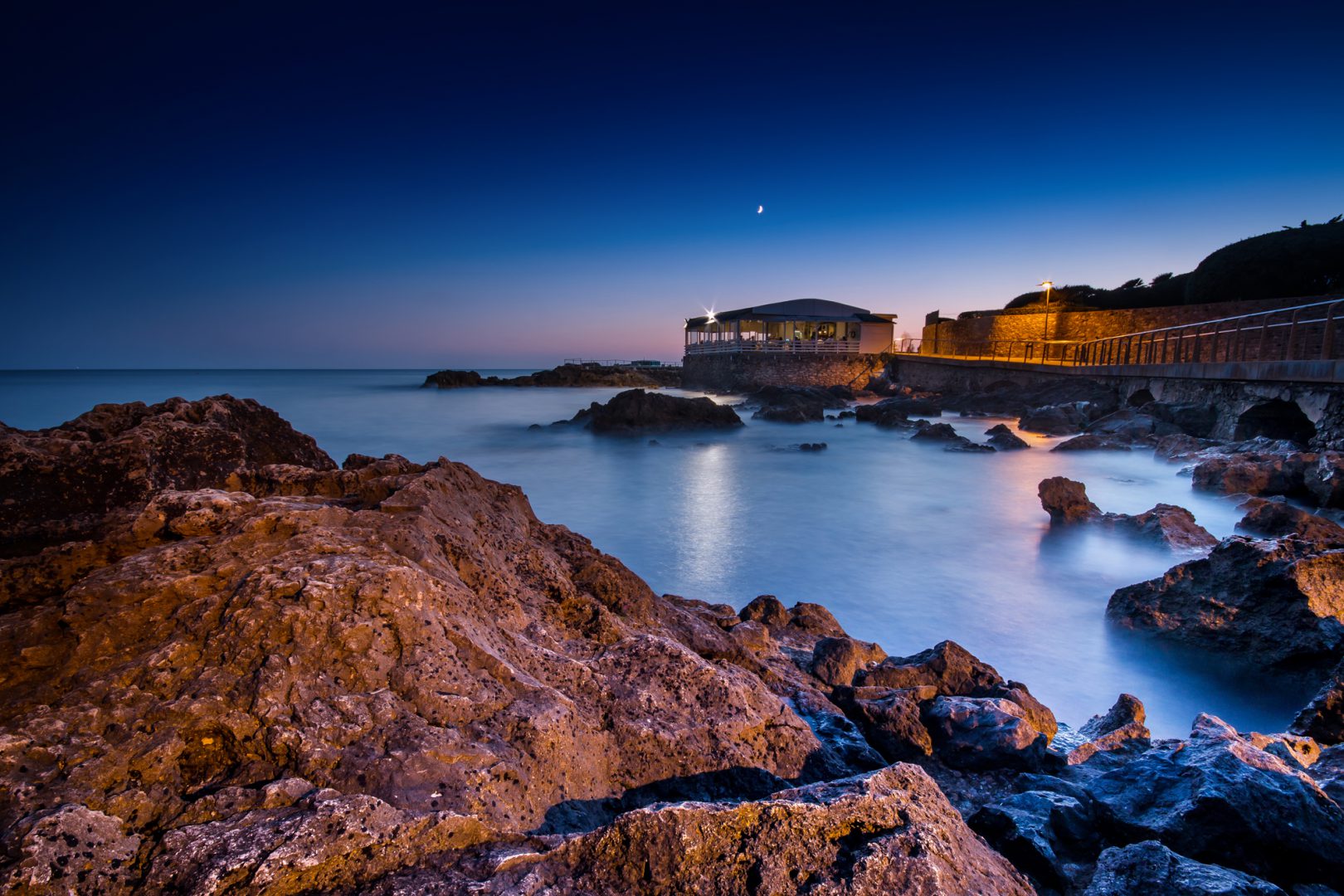 Tuscany as you like it
Relax by the sea and take it easy in Tuscany
Relax in the green
and the blue
Over and over again Castiglioncello has been awarded the Bandiera Blu (Blue Flag eco-label) which confirms it a dream tourist destination. But that's just the starting point.
How far?
Romito (Calignaia) – 12 km (9 miles) – 15 minutes by car.
Livorno – 28 km (17 miles) – 30 minutes by car.
Golfo di Baratti – 57 km (35 miles) – 40 minutes by car.
Piombino – 65 km (40 miles) – 43 minutes by car.
Isola d'Elba – 95 km (79 miles) – 2 hours 14 minutes by car and ferry boat from Piombino.
Capraia – 93 km (58 miles) – 3 hours and 50 minutes by car and ferry boat from Livorno.
Of course, you can. Because the sea, along the coast around Leghorn, is famous and full of treasures to be discovered. And, at the same time, it is far away from the other overcrowded seaside resorts in Tuscany.
Which means that it is ideal for those who are looking for a quiet, relaxing seaside retreat in Tuscany.
Our holiday homes are only a stone's throw from the beach at Castiglioncello and are the perfect place to enjoy not only your seaside holiday with small children, they can also be the starting-point for discovering the variety of experiences in store for you at the seaside, on our stretch of coast.
Only a few steps from Villaggio Mietta: The seaside at Castiglioncello. 
Castiglioncello has sandy beaches, pebble beaches and a rocky coast. Just 350 metres (380 yards) from Villaggio Mietta.
On foot, you can reach either free sandy beaches or beach resorts with changing cabins to hire, even for just one day.
Among the best-known beaches we suggest the beach that stretches from Caletta, perfect location both for a swim and for a walk along the Alberto Sordi esplanade. Also Baia del Quercetano, a strip of amber-coloured sand lying between two rocky promontories, is particularly popular with photographers and Instagramers.
The nearest beach resorts are:
Il Garagolo
For info and bookings +39 346 4747392.
Bagno Tirreno
For info and bookings: +39 0586 751381.
Bagni Belvedere
For info and bookings: +39 0586 754862.
Il Lillatro
For info and bookings: +39 0586 760314.
After the beach why not rest beneath the green canopy of the mediterranean pinewoods of Marradi Forest, or buy yourself an ice cream, while watching your children play in the play area or go for a walk and admire the elegant 19th century villas along the seafront.
Rocks and breath-taking views: Discover Romito.
If you follow the coast northwards, you will reach Quercianella, from there you can proceed to Romito and explore some of the most beautiful stretches of coast in the whole of Tuscany. In 1962, Director Dino Risi chose it to film "Il Sorpasso" ("The Overtake") and it has been the background of many other movies and adverts ever since. Lamborghini, to name a few, filmed one its most recent adverts here. Splendid views over the sea, the rocks, high cliffs, dainty bends and bridges. Shades of blue and green reveal glimpses of centuries-old buildings, Medieval watch towers and castles: Castel Sonnino, Torre di Calafuria, Castel Boccale.
All along Romito there are numerous signs directing you downhill to interesting beaches along the coast. Places such as Sassoscritto, Punta Pacchiano, Le Vaschette, Scogli Piatti – to mention just a few. Some are on easier – or shorter – paths, others are arduous. Some, such as Cala del Leone, lead to delightful pebble beaches. Others, like Calignaia, are easy to reach even with small children. Most of them easily lead to sea cliffs and are very popular with the locals.
Livorno town centre beach resorts are worth a visit. They are true institutions that welcome locals of all ages for at least three months every year. They are definately worth seeing – even just from the spacious open terrace at Terrazza Mascagni – the Bagni Pancaldi Acquaviva – the first ever brick-built seaside bathing facilitiy in the whole of Italy! Built in 1840, it was later, in 1870, ri-named Bagni Regi (Royal Baths) and was frequented by Prince Amedeus of Savoy and his wife Princess Maria Vittoria.
Going southwards attractive beaches and shady pinewoods
As you travel southwards, you will come across rocky beaches that give way to long, sandy beaches, protected by umbrella pine trees and the wild Mediterrenian scrub. From there you reach Vada, Cecina, Bibbona, Castagneto Carducci, Donoratico, San Vincenzo, Baratti gulf and then, Piombino.
All these places, along the Etruscan Coast, offer free beaches, shaded by pinewoods and caressed by sea breezes, where you can rest, shaded from the sun and enjoy long walks.
The Isles of Elba, Capraia and other islands in the Tuscan Archipelago
The seven isles of the Tuscan Archipelago are like jewels set in the blue Tyrrhenian Sea. The Isles of Elba, Giglio, Capraia, Montecristo, Pianosa, Gorgona and Giannutri.
From Livorno and Piombino you can board ferries to most of the Islands. You can also book excursions to the Tuscan archipelago directly from Cala dei Medici Harbour in Castiglioncello.