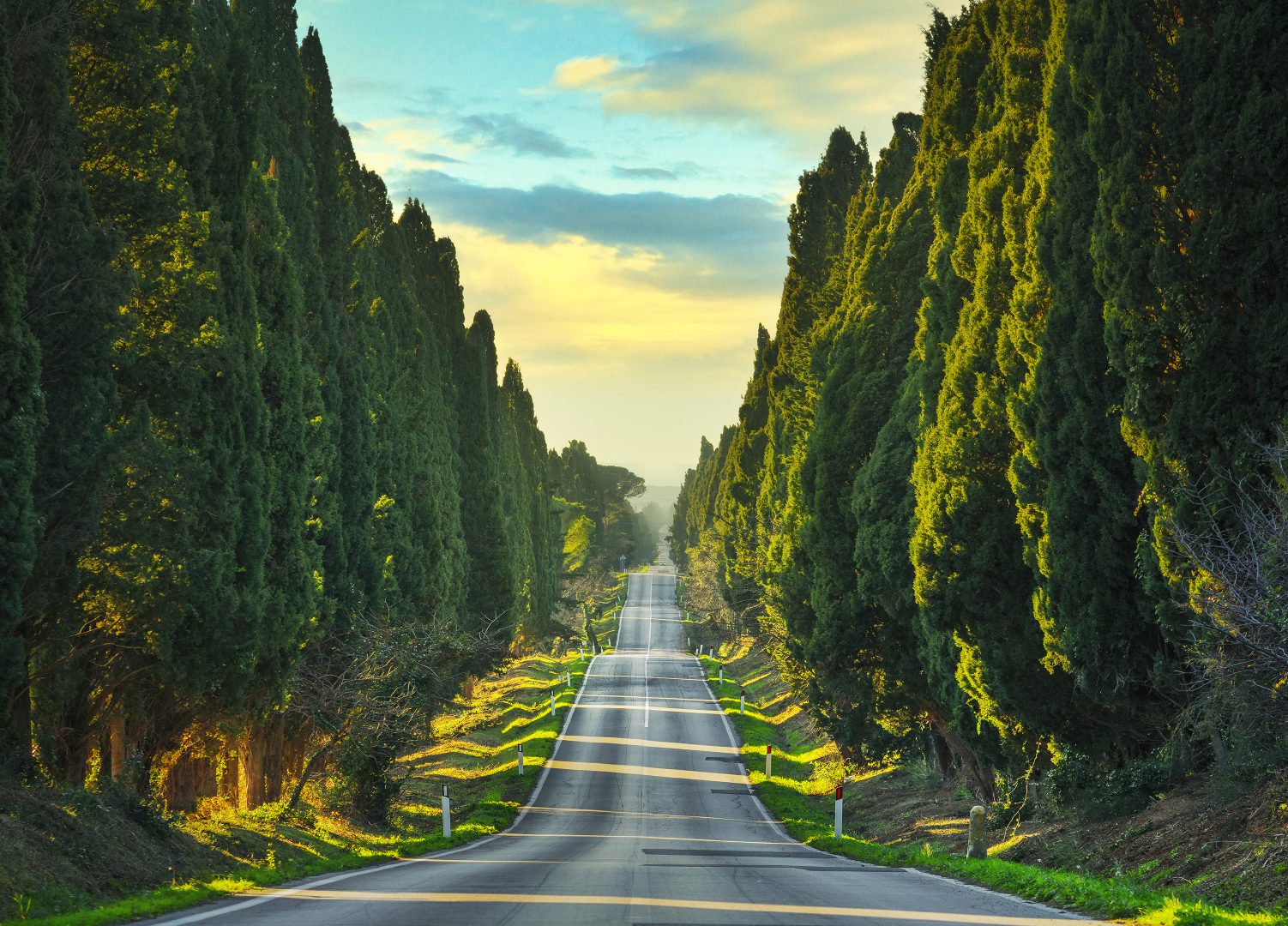 Tuscany as you like it
See all Tuscany in one day
Be surprised.
Just open your door
Cities of art and medieval villages. Hills, cypress tree avenues. History, Art, Postcard landscapes.
How far?
Livorno – 28 km (17 miles) – 33 minutes by car.
Pisa – 47 km (29 miles) – 48 minutes by car.
Lucca – 84 km (52 miles) – 1 hour by car.
Grosseto – 112 km (69 miles) – 1 hour and 15 minutes by car.
Pistoia – 122 km (75 miles) – 1 hour and 18 minutes by car.
Prato – 121 km (74 miles) – 1 hour and 29 minutes by car.
Massa e Carrara -140 km (87 miles) -1 hour and 36 minutes by car.
Firenze – 114 km (71 miles) – 1 hour 38 minutes by car.
Siena – 106 km (65 miles) – 1 hour 46 minutes by car.
Arezzo – 187 km (116 miles) – 2 hours and 7 minutes by car.
The best of Tuscany is only a stone's throw from Villaggio Mietta. So, if you are wondering what to see around Castiglioncello, you should allow yourself some time to organise your holiday, because there is so much to see. And so many things you could do in one day.
Those in search of a holiday in Tuscany and who choose Castiglioncello, should even decide to spend a few hours away from the beach, in order to enjoy a day trip, to explore the many, many, innumerable treasures for which ours is one of the most famous areas in the world.
You only have to think of the numerous UNESCO WORLD SITES enclosed in one single region. Among these are the historic town centres of Pisa, Florence, Siena, San Gimignano, Volterra and Pienza; the Medici Villas near Florence, the Baths at Montecatini Terme; the hill paths in Val d'Orcia, the Chianti hills and the Sword in the Stone at San Galgano.
Pisa, Florence, Siena, Lucca, Pistoia, and other typical Tuscan towns
In addition to uber-famous places such as the Leaning Tower of Pisa and Galleria degli Uffizi in Florence, all the cities in Tuscany are worth visiting, even if only to enjoy just walking around these masterpieces of architecture. Churches and Cathedrals, bridges, colourful marble, incredible town squares, the terracotta roof-tiling, the many periods in history all gathered together, the unrepeatable style that, all together, create an enchantment that is timeless.
Leghorn (Livorno): the Tuscany you are not prepared for
Livorno is unlike any Tuscan "postcard" town. Livorno is a rebel. As are its people. It is worth visiting, not only because is it only a 30 – minute drive from Villaggio Mietta but because it is a port, open onto the Mediterranean Sea. It is a crossroads of peoples and traditions; that accepts and welcomes all cultures, all traditions and all religions. A place where, in the early nineteen hundreds, there was a wealth of tourists and since the end of the last century it's a thriving industrial port. A place you most definitely must not miss. Go for a boat trip along the Fossi Medicei Canals. Take a walk along the beach esplanade (Lungomare) and explore the town quarter known as "La Venezia" where you can eat, take a street-art tour and visit the town museum (Museo di Città).
From Volterra to San Gimignano: The prettiest hill towns
Among the hill towns most appreciated by tourists – and by the inhabitants themselves – there are miriads of hamlets and small villages, spread throughout Tuscany. Some of them, like Volterra, Vinci, San Gimignano and Barga are famous. Others less so, like Vicopisano or Santa Luce (known as "The Tuscan Provence" because of the splendour of the lavender bushes there, when in bloom), Suvereto and Campiglia Marittima. All are fascinating, thanks to the nature that they are surrounded by and their Historical and artistic inheritence, as well as the open, and sincerely welcoming approach of the inhabitants.
Populonia and Baratti: the Ancient History of the Seafront.
Castiglioncello lies at the entrance to the Costa degli Etruschi (Etruscan Coast). From here you can visit the various archeological sites, among which are the Parco Archeologico di Baratti e Populonia, with its Etruscan necropolis and the San Silvestro Archeological and Mining Park (Parco Archeominerario) one of the parks in the Val di Cornia.
This is, of course, to name just a few of the many, many fascinating things you will discover. We suggest that first you read travel books carefully to guide you. You can also consult the links below, to plan ahead for your explorations, depending on how long the drive will take you and how much time you wish to spend, as well as which aspects you are most interested in – whether historical, architectural, nature or art.